Shaun Khalfan - Summit Chair
SVP, Chief Information Security Officer | Discover Financial Services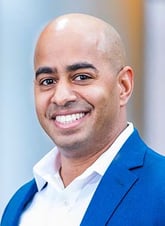 Shaun currently serves as the SVP, Chief Information Security Officer for Discover Financial Services. In this role, he leads the Information Security organization with overall responsibility for implementing the information security strategy and objectives, including strategies to manage cybersecurity risk and building a strong cyber engineering function to enable digital transformation.

Shaun has over 20 years of IT experience with specialization in information security and risk management. Shaun has held roles in increasing responsibility at the Department of Defense, culminating in the role of Chief Information Security Officer for the Department of Homeland Security, U.S. Customs and Border Protection. He was Vice President, Chief Information Security Officer at Freddie Mac where he was responsible for company-wide cybersecurity risk reduction efforts, security architecture, securing cloud transition, modern software delivery transformation, and end-user experience enhancement initiatives.

Most recently, he served as Managing Director, Chief Information Security Officer at Barclays International, leading a team focused on enabling business partners and managing cyber risk across a diverse and complex global banking environment.

Shaun is a graduate of the University of Maryland and has an MBA from the George Washington University School of Business. He serves on the board of the National Cyber Security Alliance, is a fellow with the American Council for Technology, and an adjunct professor at Carnegie Mellon University. Shaun is also a Certified Information Systems Security Professional (CISSP), Certified Ethical Hacker (CEH), and a graduate of the Department of Defense Executive Leadership Development Program.