Summit Chair
Mr. Ashutosh Jain | CISO | IndusInd Bank, India
He provides strategic direction and delivers Cyber Security, Information Risk and Security Governance at IndusInd Bank. In a career spanning twenty three years, Jain had played key roles in leading banks and organizations such as Axis Bank, Barclays Bank, Nomura India, AXA Business Services, Bank of America and PricewaterhouseCoopers.
Jain has consistently been specializing in Technology Risk and Information Risk for about two decades for regional and global levels at various multinational banks and financial institutions. His areas of expertise and core competencies include Business Process Controls, Applications Risks, Technology Infrastructure Risks, Business
Continuity & Disaster Recovery Risks, Technology Audits, Identity & Access Management Controls, Technology Forensics and Investigations.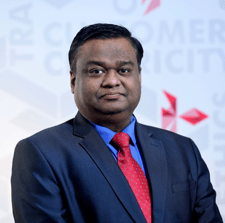 Prior to joining IndusInd Bank, Jain was CISO for Axis Bank. Previous to that, he was Head of India and Emerging Markets, Technology Risk and Information Risk, at Barclays where he established Technology Risk Management function, Information Risk Management function and Internal Controls function for the Retail and Commercial bank in India. He later managed Information Risk across 14 Emerging Market countries including Barclays Africa and looked after the Technology Risk function for India region for Corporate Bank, Investment Bank and Wealth business in India.
Jain is a CISA and PDGM in Information Systems & Finance. He is a regular speaker at international and India conferences.