Tim Byrd joined TIAA in 2019 as the Chief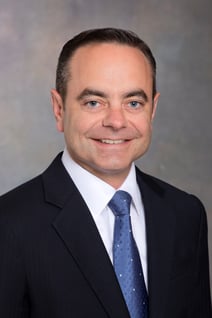 Information Security Officer (CISO). In this role, Tim is responsible for the information security strategy and governance, technologies, security engineering, and cyber defense and monitoring.
Recognized as an industry leader, Tim currently serves as the Banking Policy Institute's BITS (Business Information Technology Security) Security Steering Committee Chair, focusing on various sector-wide initiatives such as cloud security and identity and access management. He also serves on the Board of Directors of the Financial Services Information Sharing and Analysis Center (FS-ISAC).
"Our role in Information Security is to protect our customers and enable our business. By creating a strong cybersecurity posture, we can drive towards digital transformation and provide a better customer experience." –
Tim Byrd
Background
Prior to joining TIAA, Tim served as Executive Vice President, Head of Strategic Assessments and Engagement at Wells Fargo, and was responsible for front-line information security and risk assessment. His responsibilities included designing a risk-based approach and building a world-class team to execute cyber-risk initiatives globally. Additionally, Tim oversaw third-party risk programs, security awareness and training, and all external cybersecurity public-private partnership engagement. He was also selected to serve as the executive sponsor for all cloud security efforts. In this role, Tim established strong governance and security criteria and led a cloud strategy transformation at Wells Fargo.
Before his time at Wells Fargo, Tim was the Senior Vice President, Global Information Security Executive at Bank of America, holding a variety of leadership positions during his 12-year tenure. In various roles, he provided strategic direction for the Distributed Denial-of-Service, Advanced Persistent Threat, Malware, Cyber Analytics and Network Access Control programs to design and build operational controls and end-to-end strategy.
Tim received a Bachelor of Science in Management Information Systems from the University of North Carolina at Charlotte and currently holds four product patents.
About TIAA
TIAA is a unique financial partner and the leading provider of financial services in the academic, research, medical, cultural and government fields. TIAA has $970 billion in assets under management (as of 12/31/2018) and offers a wide range of financial solutions, including investing, banking, advice and education and retirement services.