Fourteen women awarded scholarship across the US; 24 scholarships awarded globally in 2018
CHICAGO, Nov. 13, 2018 – To meet the evolving needs of the cybersecurity threat landscape and to create a more diverse workforce, the Financial Services Information Sharing Analysis Center (FS-ISAC) recognized 14 women with its Building Cybersecurity Diversity (BCD) scholarship in the U.S. The recipients were recognized at FS-ISAC's Fall Summit in Chicago.
FS-ISAC awarded a total of 24 scholarships globally in 2018. The U.S., Singapore and European recipients are sponsored and mentored by leading banks and technology companies. They are Agari, Anomali, Bank of America, BNP Paribas, BNY Mellon, JPMorgan Chase & Co., Microsoft and Standard Chartered Bank. In addition, DBS Bank sponsored AP recipients.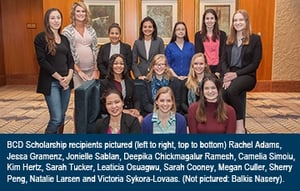 The 2018 Cybersecurity Workforce Study found that cybersecurity professionals are focusing on developing new skills as the workforce gap widens. According to the report, that gap now stands at more than 2.9 million workers globally -- with 2.14 million cybersecurity staff required in the Asia Pacific region, and almost half a million required in North America.
The 14 U.S. scholarship recipients are the latest addition to a prestigious list of rising cybersecurity professionals preparing to address cyberattacks and finding solutions to stay ahead of cybercrime. The scholarship offers $5,000 and a trip to attend one of FS-ISAC's four Summits to be mentored by and network with influential industry leaders.
"We take pride in nurturing these young professionals and giving them a chance to learn from some of the best cybersecurity experts in the business," said Bill Nelson, president and CEO of FS-ISAC. "There's no doubt that increased diversity within the sector will lead to more creative problem solving and overall safety and security of the global financial services infrastructure we serve — truly a win-win. Awarding 24 scholarships this year will help the industry fulfill its need for talent globally."
The scholarship recipients are:
Rachel Adams: Adams is a senior at Brigham Young University in Utah, studying cybersecurity. She also works as a research assistant at the university's Cyber Security Research Lab.
Sarah Cooney: Cooney is a doctoral student studying computer science at the University of Southern California. Her research focus intersects the areas of artificial intelligence, game theory, and human behavior modeling. She is a graduate of Saint Joseph's University in Pennsylvania where she earned a bachelor's degree in mathematics.
Megan Culler: Culler is a senior electrical engineering student at Texas A&M University with minors in computer science and cybersecurity, in Texas. An undergraduate research thesis led her to study techniques in detecting cyber-attacks on power grids. Culler has interned with ExxonMobil Refinery, helping to develop a plan to increase cybersecurity for safety critical controllers and laptops.
Jessa Gramenz: Gramenz attends the University of North Texas and will graduate summa cum laude with her bachelor's degree in information technology management. Gramenz is an information security analyst and threat hunter based in Dallas. Her projects include threat hunting and threat intelligence program development for Plains Capital Bank and Hilltop Holdings.
Kim Hertz: Hertz is studying software engineering at Kennesaw State University in Georgia and is also taking graduate-level courses as part of the Accelerated Bachelor's- Master's Program.
Natalie Larsen: Larsen holds a bachelor's degree in civil engineering from The University of Texas at Austin. She worked as a traffic engineer and land development engineer before heading back to school to earn a master's degree in cybersecurity at Johns Hopkins University in Maryland. Larsen is also a Department of Defense Cybersecurity Scholarship Program recipient.
Balkis Nasery: Nasery is pursuing a bachelor's degree in cybersecurity at the National University in California. She is the general manager of a restaurant where she oversees day-to-day operations and is learning the technical side of the restaurant industry.
Leaticia Osuagwu: Osuagwu is studying cybersecurity at Westchester Community College (WCC) in New York and holds a Master of Business Administration from the Dublin Business School in Ireland. An internship at a financial institution led to a full-time position as a junior information security engineer. Osuagwu is the president of WCC's Women in CyberSecurity Club.
Sherry Peng: Peng is earning her master's degree in science in information assurance, specializing in cybersecurity with a policy management certificate at Regis University in Colorado. She holds a bachelor's degree in psychology from the University of Colorado at Boulder.
Deepika Chickmagalur Ramesh: Ramesh holds a bachelor's degree in information science and engineering from the Visvesvaraya Technological University in India. She is pursuing a master's degree in cybersecurity with a specialization in ethical hacking and penetration testing from the National University in California. Ramesh also mentors middle and high school students in cybersecurity.
Cryptologic Technician Technical First Class Jonielle L. Sablan: First Class Sablan is a 12-year member of the US Navy. Currently, she serves as the Commander Strike Group Seven as Leading Petty Officer and supports information operations at Command Third Fleet as assistant electronic warfare officer. Sablan holds a bachelor's degree in information technology from the University of Phoenix and is earning her master's degree in cybersecurity ethical hacking and penetration testing at the National University in California.
Camelia Simoiu: Simoiu is a doctoral candidate in computational social science at Stanford University in California. Her research focuses on quantitative modeling of online human behavior and decision-making, with a focus on cybersecurity and criminal justice outcomes. She holds a bachelor's degree in applied statistics from the University of Toronto and a master's degree in artificial intelligence from the University of Amsterdam.
Victoria Sykora-Lovaas: Sykora-Lovaas is a senior at New York University (NYU) majoring in computer science with a minor in cybersecurity. She immersed herself in the field this past summer as a software engineer intern at Electronic Arts. She has been instrumental in organizing and leading groups for women in engineering at NYU and spent two summers teaching high school girls how to code.
Sarah Tucker: Tucker is a senior at Texas A&M University studying management information systems. She enjoys exploring all aspects of information technology (IT), including her stint this past summer as an IT intern for Chevron Phillips Chemical.
Since the scholarship's inception in 2016, FS-ISAC has awarded 31 recipients.
About FS-ISAC:
The Financial Services Information Sharing and Analysis Center (FS-ISAC) is a non-profit corporation that was established in 1999 and is funded by its 7,000 member firms headquartered in 46 countries with users in 72 countries. FS-ISAC is a member-driven organization whose mission is to help assure the resilience and continuity of the global financial services infrastructure and individual firms against acts that could significantly impact the sector's ability to provide services critical to the orderly function of the global economy. FS-ISAC shares threat and vulnerability information, conducts coordinated contingency planning exercises, manages rapid response communications for both cyber and physical events, conducts education and training programs and fosters collaborations with and among other key sectors and government agencies. Follow us on Twitter @FSISAC, on LinkedIn or visit fsisac.com.
+++
FS-ISAC US Media Contact:
Sinu Patel
spatel@fsisac.com
+1.540.355.8822