2021 Will be the Most Profound Year in Cybersecurity in our Global History – A Conversation for the C-Suite
Robert Herjavec, Founder & CEO, Herjavec Group
Tempt the Titans Event Description:
FS-ISAC is hosting a "Shark Tank" style event called Tempt the Titans. This event offers an opportunity for innovative cyber startups to pitch to a panel of financial sector Titans. We'll have three judges (prominent Cybersecurity Executives) along with Robert Herjavec from Shark Tank who provide feedback on the solution. If the Titans are tempted, start-ups will be offered a formal evaluation by the member firm.

Session Description:
This is going to be the year we look back to in terms of heightened impacts of nation-state attacks and emerging malware threats. Targeted attacks like those against the SolarWinds supply chain, and the total system disruption of UVM Health Network, are only the beginning of what we can expect to see. The challenges we will face as a cybersecurity community will be varied, continuous, and demanding. With the COVID-19 vaccine being rolled out, enterprises will start heading back into the physical workspace, embracing a flexible, hybrid work model. We will reconnect the devices we sent home a year ago and be in for a world of hurt if the right processes, programs and support services are not in place. As cybersecurity professionals, the pandemic drastically affected the way we detect, manage, respond, protect, and secure. Join Herjavec Group Founder & CEO, Robert Herjavec, as he explores the emerging threats targeting the Financial Services industry and our global economy. He will discuss key cybersecurity conversations that should be had across your executive teams in order to confront the paradigm shift resulting from the pandemic head on.
Bio: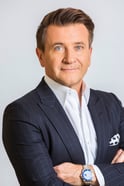 A dynamic entrepreneur, Robert Herjavec has built and sold several IT companies. In 2003 Robert founded Herjavec Group, and it quickly became one of North America's fastest growing technology companies. Today, Herjavec Group is a global leader in information security, operating across the United States, United Kingdom and Canada; specializing in managed security services, advisory services, identity and incident response for enterprise level organizations. Robert's ability to interpret industry trends and understand enterprise business security demands has helped him achieve the profile of a global cybersecurity expert. He has served as a Cybersecurity Advisor for the Government of Canada, participated in the White House Summit on Cybersecurity and is a member of the US Chamber of Commerce Task Force for Cybersecurity. His views on the threat landscape, on emerging technologies and on the need for a proactive security framework are regularly profiled across print, digital and television mediums. He shares his expertise with other entrepreneurs each week as a leading Shark on ABC's Emmy Award-winning hit show Shark Tank.
Tempt the Titans Start-Up Firms: